Elections, Science and Diversification
December 2020
Kristof Gleich, President, CIO, Harbor Capital Advisors
It's hard to remember a time when the volume and velocity of uncertainty has shifted as much as in the past month. Two key events have transpired that I believe have resulted in one of the strongest months for risk assets in history.
First, the election result is now known—Joe Biden will be the 46th President of the United States. It's likely that the Senate will stay in Republican hands, ensuring checks and balances are in place or, as someone more cynical said to me, "Gridlock will ensure that nothing will be able to get done; this is a good thing." The left-most-leaning factions of the democratic party will be kept in check; however, all eyes will be on Georgia in the Senate runoff in early January for any last-minute surprises.
Biden has begun to announce his cabinet choices, and I think the market likes what it sees. Probably the most significant is the appointment of Janet Yellen as Treasury Secretary—with names like Elizabeth Warren rumored to be in the running for this role—the market has breathed a collective sigh of relief. Mrs. Yellen seems to be the only candidate who appeals to all stakeholders, politicians from both sides of the political aisle and the markets—that's no mean feat.
Never has there been a clearer indication of the increased coordination that we should expect from monetary and fiscal policy in the future than we have been used to in the past. Markets obviously expect a favorable working relationship between Mrs. Yellen and her successor at the Fed, Jerome Powell—I'm sure they'll be on each other's speed dials. Just getting this appointment out of the way (no matter the outcome) would likely have been a positive for the markets, but the way it's currently shaping up appears to be a best-case scenario for risk assets.
I smiled reading that BlackRock has seemingly usurped Goldman Sachs' position as most-favored firm in terms of Washington clout—despite the fact that Larry Fink, having been linked multiple times in the past for the top job at the treasury, is firmly staying put1.
Second, and by far and away the most important piece of news, are the positive vaccine results that surpassed all the most optimistic forecasts I follow for both speed and efficacy. Let's just rejoice together at the miracle of science for a moment. Pfizer, Moderna and AstraZeneca all delivered a one-two-three punch that will hopefully knock this virus out. Each vaccine will likely play a key role globally within a myriad of overlapping measures akin to different cuts of swiss cheese2. Each works in a different way, with different science at play, and therefore should bring benefits of diversification to the table. This will surely go down as one of humanity's greatest-ever scientific achievements. What I found particularly mind-blowing is the fact that the actual physical vaccine existed and began Phase 1 trials way back on that first Monday of lockdown for all of us on March 16—remember then? I feel quite confident in saying that we have now passed into the final phase of the crisis, the beginning of the end. This really is a reminder to marvel at scientific progress and technology that continue to accelerate, and in turn continue to drive disruption and innovation in the world around us.
We have transitioned from the depths of despair of the initial, unknown healthcare crisis—to the mother of all scientific challenges (with life as we know it at stake)—to now, the final phase of a complex logistical magnitude problem: manufacturing, production and distribution. Much easier to state this simply, than to solve, so I say this with great humility and respect for the real people working 24/7 on these complex problems and in extraordinarily difficult circumstances: Thank You. Also, I fully acknowledge the shorter-term picture is quite bleak, as we must collectively manage through the short-term crisis, but at least we do this with light clearly shining at the end of the tunnel.
For what it's worth, I find the most informative source for following what's happening with the COVID-19 crisis is Dr. Michael Osterholm, from the Center of Infectious Disease Research and Policy, University of Minnesota3. He does a weekly podcast that's free to download via the usual channels and is normally released on Thursday mornings. He is genuine, nonpartisan4, calling out, as he says, "balls and strikes"—all with a deeply human touch. Almost as consistent as a Swiss clock, you'll find me pounding the streets of Chicago, during one of my 5K runs,5 listening to it shortly after its release.
On to markets and what a reaction November has witnessed. Breathtaking and hard to digest. Markets have had one of their best-ever months in history on any number of measures. November poured gasoline onto some trends that had already begun to shift in Q3. Value stocks had one of their best months ever on record, with small caps also rebounding sharply. A year that had been defined by disruptive, U.S. large-cap growth domination, has finally begun to broaden out. The broadening of markets is a healthy thing. Small Value (Russell 2000® Value) is up 19% for the month of November, but still down on the year (Source: FactSet, December 2020). In fact, if you look at figure 1, we break down the stocks of the S&P500 with year-to-date performance through Q3 on the x-axis and the Q4 performance to end of November on the y-axis. The size of the bubbles is simply indicative of the market cap of each company. Here's what you see. What was down a lot for the year has now rallied hard, as the markets have quickly moved to price in a post- COVID-19 world.

Figure 1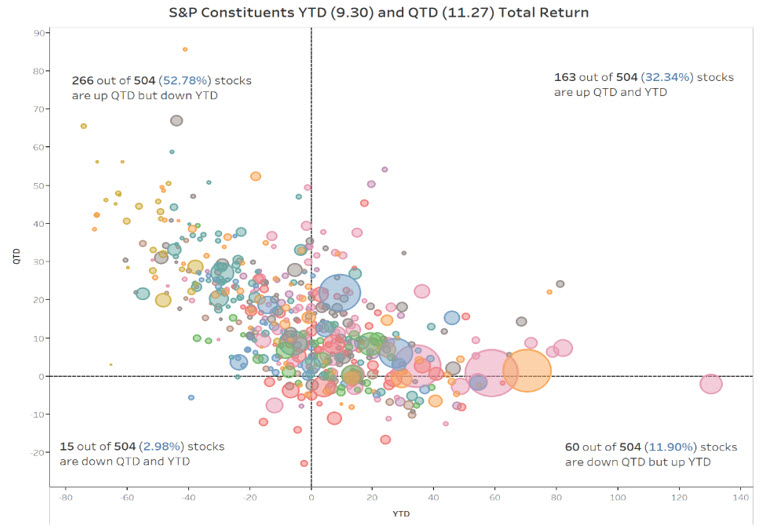 Source: FactSet, December 2020. All charts and data are for illustrative purposes only.
Digging a little deeper into how extreme this quarter's moves have been, you can see that sliced a few different ways in the following three charts (Source: Morningstar): (1) Small Value minus Small Growth, (2) Small Cap minus Large Cap or (3) Small Value versus Large Growth. The dispersions are as large as they have been in over 20 years.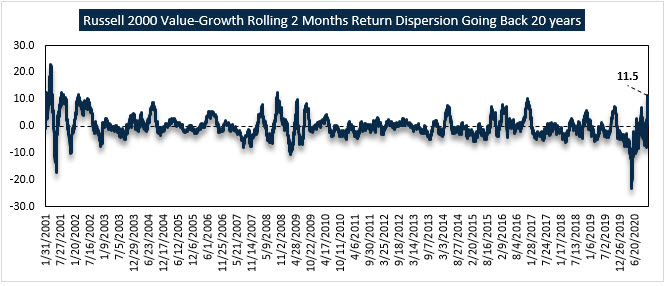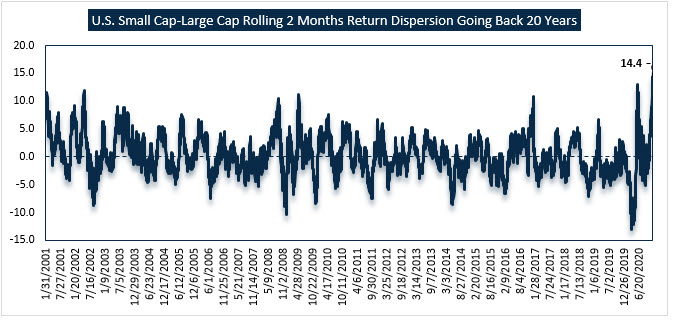 All charts and data are for illustrative purposes only.
I won't get drawn into the binary debate of the day—value versus growth. There's plenty of literature available and hundreds of hours of reading and listening available online to those who want to go deep into this subject6, 7. What I will say is this: Diversification is still one of the few, free lunches out there, and a thoughtfully diversified portfolio can weather different environments better than one that is leaning on a single style, geography or factor. Ray Dalio of Bridgewater Associates said it best, "Diversifying well is the most important thing you need to do in order to invest well."8 Parsing out some of your portfolio to skilled managers who incorporate a fundamental valuation discipline as part of their process will always make sense, and November was a good reminder of why it's impossible to predict exactly when the right time will be—that you'll be thankful that you did.
In less than thirty days' time, we'll be able to collectively rejoice that 2020 is in the past and look forward to what 2021 brings us. Have a safe December.
-Kristof
1Bloomberg, BlackRock Gains Clout in Washington as Biden Builds His Team, December 1, 2020
2The Wall Street Journal, How the Swiss Cheese Model Can Help Us Beat Covid-19, November 13, 2020
3Center for Infectious Disease Research and Policy, Dr. Michael Osterholm, November 25, 2020
4I acknowledge that although he continues to be non-partisan he is now part of Biden's advisory team. MPR News, Osterholm joins Biden's COVID task force, hopes to work with Trump team, November 9, 2020
5Ok, they are more jogs than runs.
6One of our value managers, LSV, recently took part in a zoom webinar where you can listen to some of the value giants talking it out over 90 minutes. Value for the Long Run, Lakonishok, Asness, Gabelli and Siegel, https://www.lsvasset.com/media/, October 28, 2020
7Harbor Capital recently hosted a webinar with another valued, value partner of ours, Aristotle Capital Management https://institutional.harborfunds.com/perspectives/webinars November 10, 2020
8LinkedIn, Diversifying Well Is the Most Important Think You Need to Do in Order to Invest Well, Ray Dalio, August 12, 2019
Legal Notices & Disclosures
The views expressed herein are those of Harbor Capital Advisors, Inc. investment professionals at the time the comments were made. They may not be reflective of their current opinions, are subject to change without prior notice, and should not be considered investment advice. The information provided in this presentation is for informational purposes only.
The information provided in this article should not be considered as a recommendation to purchase or sell a particular security. The weightings, holdings, industries, sectors, and countries mentioned may change at any time and may not represent current or future investments. Performance data shown represents past performance and is no guarantee of future results.
The Russell 2000® Growth Index is an unmanaged index representing the smallest 2000 stocks with the highest price-to-book ratio and future earnings. This unmanaged index does not reflect fees and expenses and is not available for direct investment. The Russell 2000® Growth Index and Russell® are trademarks of Frank Russell Company.
The Russell 2000® Value Index is an unmanaged index representing the smallest 2000 stocks with the lowest price-to-book ratio and future earnings. This unmanaged index does not reflect fees and expenses and is not available for direct investment. The Russell 2000® Value Index and Russell® are trademarks of Frank Russell Company.
The S&P 500 Index is an unmanaged index generally representative of the U.S. market for large capitalization equities. This unmanaged index does not reflect fees and expenses and is not available for direct investment.
© [2020] Morningstar, Inc. All rights reserved. The information contained herein: (1) is proprietary to Morningstar and/or its content providers; (2) may not be copied or distributed; and (3) is not warranted to be accurate, complete, or timely. Neither Morningstar nor its content providers are responsible for any damages or losses arising from any use of this information. Past performance is no guarantee of future results.