The Importance of Active in Capturing Innovation
In his most recent monthly insight, Harbor's President and CIO, Kristof Gleich, wrote about the underlying concentration risks facing passive investors. Noting that indices are becoming more and more concentrated in a small number of stocks, he writes "I know one thing is for sure, if I was trusting a manager to hold a similar concentration of bets I would want to make sure they had done their homework, their fundamental thesis for holding these businesses was sound, and that they had been very thoughtful about what to hold and in what size." One major benefit to active management is having professionals conducting thorough due diligence as opposed to passive management which relies on company size.
Similarly, active managers may have an edge in capitalizing on disruptive innovation. Disruptive innovation is defined as Innovation and technological transformation that displaces pre-existing sectors, industries, and/or companies leading to newly created end-markets, rapid increases in market share of existing end-markets, and increased efficiencies. As computing power has increased exponentially, so has the pace of innovation. Passive investments have passive exposure to innovation. For example, the top holdings in the S&P 500 Index feature names like Apple, Amazon, Facebook etc. – companies that have innovated in various ways and disrupted their industry peers. However, a passive exposure to these names would likely not capture the full return potential they offer. There are two reasons for this:
By the time many of these companies achieve a meaningful weight in the index, they have appreciated significantly in price. Owning them earlier in their lifecycle would have netted significantly greater returns.
Because major indexes are market capitalization weighted, positions are determined by company size. The index is not able to take larger positions in companies based on forward expectations or to adjust positioning based on a change in investment thesis.
Let's look at the edge active has in the capturing innovation. First, it's important to consider the durability of growth. As shown in Figure 1, high growth companies (as measured by sales growth) generally don't maintain their growth rate for long stretches. If you take the top decile of companies by sales growth and look forward, 75% of said companies drop out of the top decile after the first year. After five years, only 14% remain.
Figure 1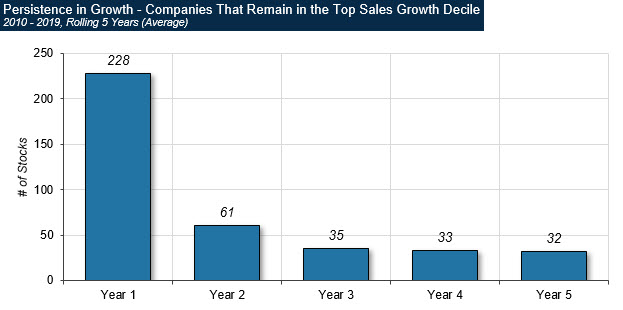 Source: Sands Capital Management, FactSet
A passive index investment would be unable to determine which high-growth companies will continue to grow at a significant rate through several years, or adjust its positioning to find the next high-growth company. Active investors, however, may have better odds at identifying those long-duration growers through fundamental research.
Passive investments contain some innovation but leave a large portion of the return potential on the table. Take, for example, a company like Tesla. Tesla is widely recognized as highly innovative and a disrupter in the automotive industry. Figure 2 compares Tesla's stock price appreciation to its weight in the Russell 1000® Index.
Figure 2

Source: Morningstar, FactSet
As you can see, from its inclusion in the index in 2012 through November of 2020, Tesla returned over 11,000% cumulatively. However, its weight in the Russell 1000® index was minimal through much of this growth, and it will not join the S&P 500 Index until December 2020. Passive exposure to the Russell 1000® fails to capture the potential gains of the innovation of a company like Tesla. Active managers, however, can purchase innovative companies much earlier in their lifecycle and at more meaningful weights.
Legal Notices & Disclosures
The Russell 1000® Index is an unmanaged index generally representative of the U.S. market for larger capitalization stocks. This unmanaged index does not reflect fees and expenses and is not available for direct investment. The Russell 1000® Index and Russell® are trademarks of Frank Russell Company.
The S&P 500 Index is an unmanaged index generally representative of the U.S. market for large capitalization equities. This unmanaged index does not reflect fees and expenses and is not available for direct investment.
The views expressed herein are those of Harbor Capital Advisors, Inc. investment professionals at the time the comments were made. They may not be reflective of their current opinions, are subject to change without prior notice, and should not be considered investment advice. The information provided in this article is for informational purposes only.
The information provided in this article should not be considered as a recommendation to purchase or sell a particular security. The weightings, holdings, industries, sectors, and countries mentioned may change at any time and may not represent current or future investments.