When Passive Becomes Active
November 2020
Kristof Gleich, President, CIO, Harbor Capital Advisors, Inc.
There are many benefits to passive investing and the fact that passive has grown so much and so quickly over the past couple of decades is largely rational. The combination of (i) disappointing and undifferentiated active investment returns (ii) conveniently accessing diversified markets exposure and (iii) low fees has been an extraordinarily powerful one; it has almost become an unstoppable force.
Low fees are structural and permanently so – I cannot think of a scenario where fees will go up in the future so we will take this feature as a given. But what about the other two? We should probe those a little further. Let me start with (ii) Diversification.
Many think that diversification (and therefore perhaps safety) is a permanent feature of passive investing. Let me be clear; It is not. As an example, take the Russell 1000® Growth Index. According to Morningstar there are 9 funds and ETFs that track this index with approximately $85 billion in combined assets under management.

As you can see from Figure 1, the weighting of the top 5 stocks now accounts for approximately 37% of the index - a historical high. This of course is a consequence of the market capitalization of these stocks growing due to their disruptive business success and recognition of this fact.
Investors however are, or at least should be, more concerned with future success rather than past glories. Is it right to still hold this amount in these few stocks? The "Index" may well be proven right going forward that investing 37% of your capital into these businesses is the right thing to do, but perhaps not. I know one thing is for sure, if I was trusting a manager to hold a similar concentration of bets I would want to make sure they had done their homework, their fundamental thesis for holding these businesses was sound, and that they had been very thoughtful about what to hold and in what size. I would also like them to have both the ability and agility to change their mind if their investment thesis in these names deteriorated, or if they found better opportunities elsewhere, and reduce (or increase) their size appropriately. An index simply cannot do this – an index is not a fiduciary; it doesn't think about risk or the relative positioning sizing between stocks.
Figure 1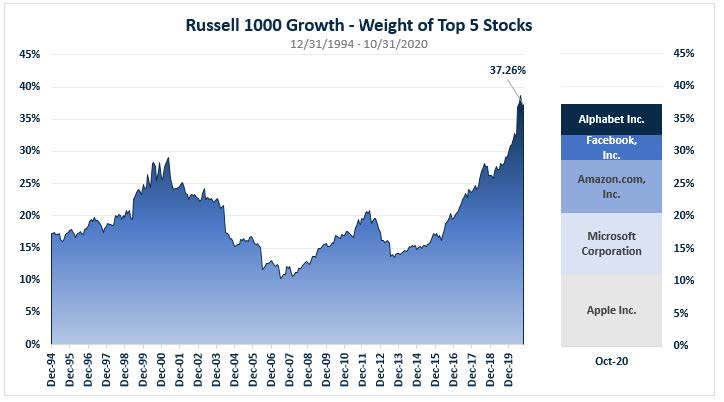 Source: FactSet, October 2020
Investors should at least be well educated and attune to the risks that they may face and how those have changed over time. Market capitalization weighted indices, such as the Russell 1000® Growth, MSCI World or MSCI Emerging Markets are not as well diversified as they have been historically and are now taking concentrated bets akin to something we would associate with active, not passive investing.
Next, let's turn our attention to (i) disappointing and undifferentiated returns. Over recent history, (about the last 20 years or so) the dispersion, or lack of, between strong and weak managers has made the endeavor of picking winning managers more difficult and with less rewards. Is this about to change?
In a world that is evolving so quickly, entire businesses or industries are being completely disrupted and new markets are being born. It stands to reason that being on the right side of this change should bring great reward. With 2020 accelerating trends that were already in place before the pandemic, the results this year support that notion. Over the asset classes we track, the difference between winning and losing active managers is at a 20-year high, and by some margin (Figure 2). We have seen both an uptick in the number of managers that outperform and a dramatic increase in the reward for picking the managers that do.
Said a little more bluntly, the odds of picking a winning manager this year have ticked up, and the reward or pay-off for doing so has exploded.
Figure 2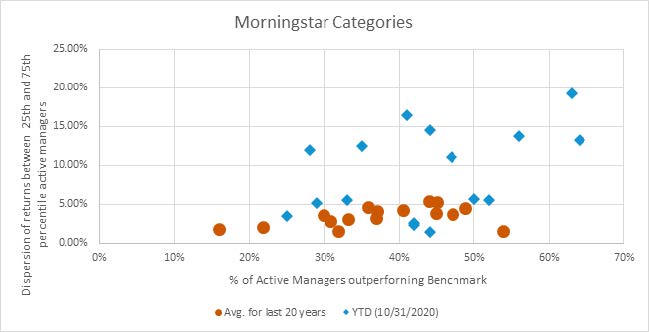 Source: Morningstar, October 2020
In Figure 2, the orange dots represent different Morningstar categories for the last 20 years. The blue diamonds show those same categories but on a year-to-date basis. You'll notice a general shift to the right (greater % of managers outperforming) and up the page (those winning managers outperforming by more).
Key Takeaways
Understand what you're paying for

: passive management is cheap and will remain so. However, the perceived diversification benefits of passive investments are not as powerful today as they once were.

Know the risks

: many indices are heavily concentrated in a small number of names. Passive weights are determined by company size, not in-depth fundamental research. Indices do not have the flexibility to make portfolio changes based on an investment case.
There is opportunity for good active management to outshine

: in an unprecedented year, more active managers have outperformed their benchmarks – and by a greater margin – than the average of the last 20 years. Dispersion opens up more opportunities for talented active managers to differentiate themselves.
Legal Notices & Disclosures
Past performance is no guarantee of future results.
The information shown relates to the past. Past performance is not a guide to the future. The value of an investment can go down as well as up. Investing involves risks including loss of principal.
The views expressed herein are those of Harbor Capital Advisors, Inc. investment professionals at the time the comments were made. They may not be reflective of their current opinions, are subject to change without prior notice, and should not be considered investment advice.
©2020 Morningstar. All Rights Reserved. The information contained herein: (1) is proprietary to Morningstar and/or its content providers; (2) may not be copied or distributed; and (3) is not warranted to be accurate, complete or timely. Neither Morningstar nor its content providers are responsible for any damages or losses arising from any use of this information. Past performance is no guarantee of future results.
The Russell 1000® Growth Index is an unmanaged index generally representative of the U.S. market for larger capitalization growth stocks. This unmanaged index does not reflect fees and expenses and is not available for direct investment. The Russell 1000® Growth Index and Russell® are trademarks of Frank Russell Company.
The S&P 500 Index is an unmanaged index generally representative of the U.S. market for large capitalization equities. This unmanaged index does not reflect fees and expenses and is not available for direct investment.
The MSCI World Index is an unmanaged index generally representative of large and mid-cap equities across 23 developed markets countries. This unmanaged index does not reflect fees and expenses and is not available for direct investment.
The MSCI Emerging Markets (ND) Index is a market capitalization weighted index of equity securities in more than 20 emerging market economies. This unmanaged index does not reflect fees and expenses and is not available for direct investment.