Diversifying with Foreign Equities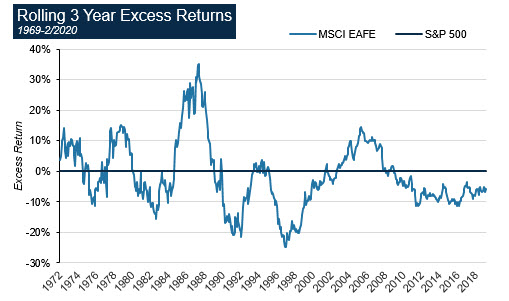 Source: Morningstar as of 2/29/2020. Performance data shown represents past performance and is no guarantee of future results.
The above chart shows the returns of the MSCI EAFE Index of non-U.S. companies vs. the S&P 500 Index of U.S. companies on a rolling 3-year basis. U.S. equities have significantly outperformed non-U.S. equities over the last 10 years. However, historically, U.S. and non-U.S. equities have traded leadership positions on a rolling basis, which provides important diversification benefits. While some point to rising correlations over time between U.S. and Non-U.S. stocks, we still find the diversification benefits and return potential of non-U.S. equities highly compelling. While there was an increase in correlations between US and foreign equities during the global financial crisis, those correlations have since eased somewhat. A diversified investment approach may help dampen the effects of rising volatility.
Legal Notices & Disclosures
@ [2020] Morningstar, Inc. All rights reserved. The information contained herein: (1) is proprietary to Morningstar and/or its content providers; (2) may not be copied or distributed; and (3) is not warranted to be accurate, complete, or timely. Neither Morningstar nor its content providers are responsible for any damages or losses arising from any use of this information. Past Performance is no guarantee of future results.
The S&P 500 Index is an unmanaged index generally representative of the U.S. market for large capitalization equities. This unmanaged index does not reflect fees and expenses and is not available for direct investment.

The views expressed herein are those of Harbor Capital Advisors, Inc. investment professionals at the time the comments were made. They may not be reflective of their current opinions, are subject to change without prior notice, and should not be considered investment advice.
Distributed by Harbor Funds Distributors, Inc.