Volatility May Be Here to Stay for the Foreseeable Future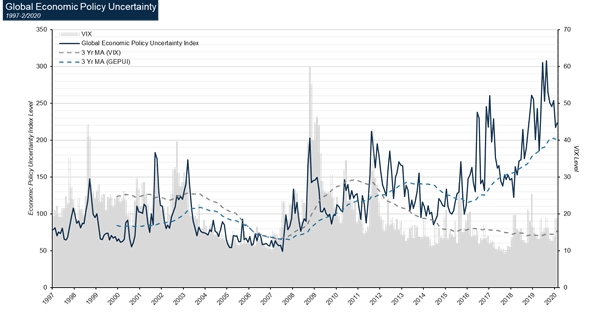 Source: CBOE Market Volatility Index (Vix), Economic Policy Uncertainty, Morningstar as of 2/29/2020.
Until recent events surrounding COVID-19, market volatility had been subdued by historical standards for the last several years. The longest equity bull market in modern history, political instability, credit cycles, and a host of other factors had progressively been pointing toward an increased likelihood of heightened market volatility. The blue line in the chart shows that economic policy uncertainty (PUI) has been on the rise. Historically, the PUI tracked the CBOE Volatility Index (VIX - shaded gray area) fairly closely until around 2014 when the two measures began to diverge, roughly coinciding with massive quantitative easing globally by central banks. With the advent of COVID-19, VIX spiked into the 80s and is once again tracking policy uncertainty. Given the massive uncertainties surrounding markets, the economy, and central banks' responses due to COVID-19, we believe that both policy uncertainty and market volatility are here to stay for the foreseeable future.
Read our most recent CIO Commentary
Legal Notices & Disclosures
The views expressed herein are those of Harbor Capital Advisors, Inc. investment professionals at the time the comments were made. They may not be reflective of their current opinions, are subject to change without prior notice, and should not be considered investment advice.
Distributed by Harbor Funds Distributors, Inc.